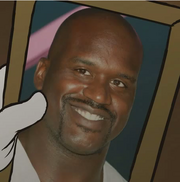 Shaquille O' Neal is an NBA star, and has a connection to Bluckles . It is not known whether Bluckles refered to him as his family - or as another connection.
Traits and Backstory
As I have already stated, we know nothing of him as of yet.
Friends and Enemies
The only connection seems to be to Bluckles and Eggman , which is one we do not know much of yet.
External Links
Shaquille O'Neal on Wikipedia: http://en.wikipedia.org/wiki/Shaquille_O'Neal
Ad blocker interference detected!
Wikia is a free-to-use site that makes money from advertising. We have a modified experience for viewers using ad blockers

Wikia is not accessible if you've made further modifications. Remove the custom ad blocker rule(s) and the page will load as expected.