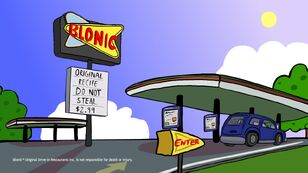 Blonic is Blonic's original drive-in restaurant. It serves popanutritious popalicious ORIGINAL Recipe Popcorn Chicken. An ORIGINAL Recipe Popcorn Chicken with a medium beverage is $2.99 with proof of citizenship. Blonic and Blailshave been shown to like their Popcorn Chicken, while Blonic has admitted to not order Chili Dogs regularly; whether this means Blonic dislikes them or not is currently unknown. And remember, "It's not good. It's Blonic!"
Ad blocker interference detected!
Wikia is a free-to-use site that makes money from advertising. We have a modified experience for viewers using ad blockers

Wikia is not accessible if you've made further modifications. Remove the custom ad blocker rule(s) and the page will load as expected.